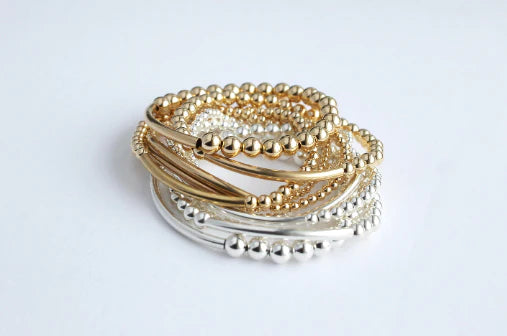 Whether it's your everyday jewelry or pieces only worn for special occasions, it's important to clean your jewelry to ensure it is always looking new and sparkly. Cleaning your jewelry is easy to do and can be done with common household items. 
Check out some of our favourite tips to keep your jewelry looking fresh and new always!
1. Wash Your Jewelry Pieces
Cleaning your jewelry at home may seem a little intimidating, but it is really easy to do and only required a few household items
Mix 1 teaspoon of dish soap into 1 cup of warm water

Soak your pieces in this solution for about 5 minutes 

Gently scrub jewelry with a soft-bristle toothbrush

Place pieces on a towel or cloth, and pat to dry

Store your jewelry pieces after cleaning to keep away from dust, dirt and moisture
2. Use a Polishing Cloth
Keep your favourite pieces shiny and sparkly by keeping them clean and polished. All you need for this is a polishing cloth.
Polishing cloths can bring your jewelry back to life by removing tarnishing, oils, dirt, scratches and dullness on various metals such as sterling silver, gold, steel, platinum, brass and copper

Clean your hands before polishing jewelry to avoid additional fingerprints

Ensure your polishing cloth is clean - dried dirt and debris can leave scratches

Polish your pieces in a gentle sweeping motion with slight pressure
3. Store Your Jewelry Carefully 
Keeping your jewelry stored in the right place is the first step to keeping your jewelry clean. Storing your jewelry can help protect your pieces from damage and/or tangling
Silver jewelry is best kept in a jewelry box lined with felt/velvet - These materials will help with absorbing moisture and prevent tarnishing.

All Beaucoup de Beads pieces come in a small velvet pouch perfect for gift-giving and storing your jewelry

Add something such as chalk or silica packets to your jewelry storage to help absorb moisture 

Gold jewelry is best kept in a clean, dry, fabric lined jewelry box

Avoid damage by wrapping each piece individually in a soft cloth 

Wipe your jewelry and store immediately after wearing - cleaning the metal from any makeup, skin oils, sweat or dirt before storing will ensure your pieces are completely clean and ready for wear

Keep jewelry contained in a cool and dry location
4. Make a Jewelry Cleaning Kit
Stay organized and keep all your jewelry care supplies in the same place so you can quickly clean and/or repair your pieces without hunting down the required tools. Repurpose old makeup bags or a plastic container to make your kit. Some items to include in your kit include:
Polishing cloth

Soft-bristled brush/toothbrush

Q-tips for hard to reach areas

Tweezers for removing lint

Small towel to dry jewelry
5. Put Your Jewelry on Last
Many people put their jewelry on first thing in the morning, or just before a night out - however, it's important to make this the last step of your routine. 
It's better to wait until you are finished getting ready to add the finishing touch

Chemicals from hair products, perfume and makeup can potentially damage your pieces

Hand and body lotion typically won't ruin fine jewelry, but can destroy the finish on costume pieces

A build-up of lotions can result in more frequent cleaning of your items