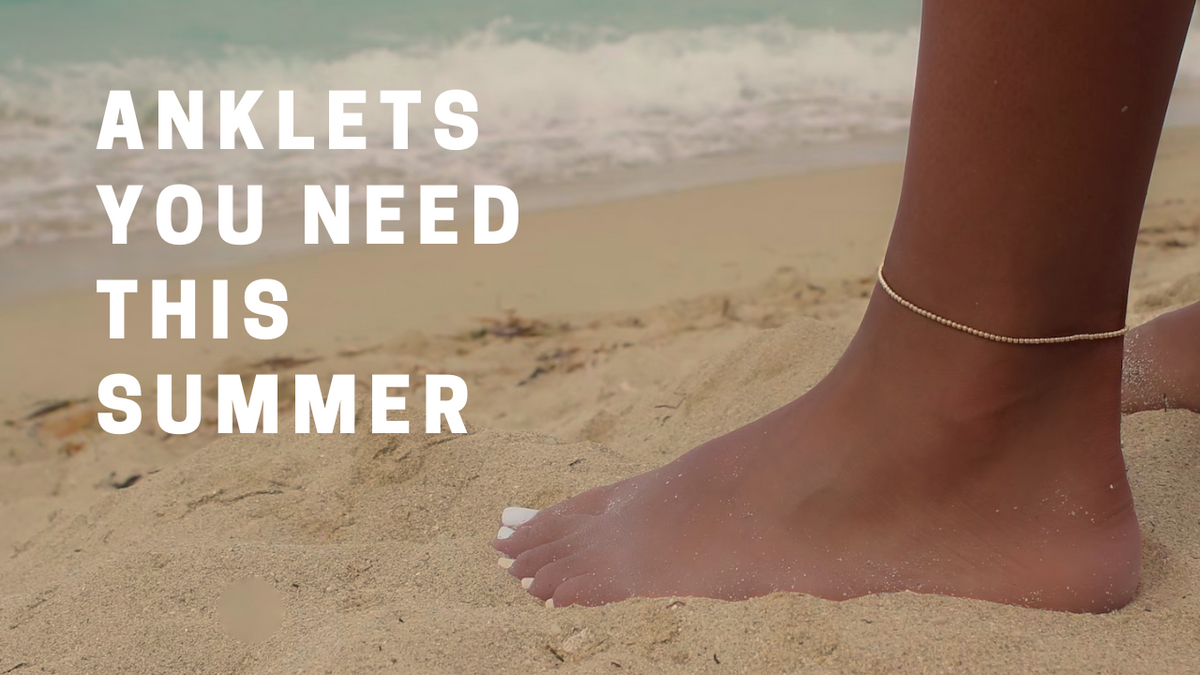 As the weather gets warmer, we begin to enter the best time of the year; Anklet Season. These jewelry pieces are often overlooked when accessorizing but can add personality and style to any outfit. Whether you're accessorizing for a formal event or just want a simple, beachy look; an anklet is the perfect piece!
Anklets come in various colours, sizes, styles, and materials, to match your style or fit any occasion. Wear your anklet alone or mix and match different colours and textures, to create your own personalized anklet stack. 
Take a look at some of our newest and best-selling anklets to add to your jewelry collection this summer ☀ 
If you're looking for something simple and dainty, the Satellite Anklet is for you. A simple chain, with dazzling beads spaced throughout, the Satellite Anklet is lightweight with a timeless look. Available in 14K Gold Filled or 925 Sterling Silver. 

Shop the Satellite Anklet here
Double the chain, double the fun! This beautiful anklet adds an extra layer to our best-selling Satellite chain to give your piece a little more pizzazz. Also available in 14K Gold Filled or 925 Sterling Silver.
Shop the Double Satellite Anklet here
The ultimate summer anklet. Keep the sun with you during those cloudy days with this dainty, radiant sun charm anklet. This sun charm comes with our Sattelite chain and is available in 14K Gold Filled. 
Shop the 14K Gold Sun Charm Satellite Anklet here
A beaded anklet to match your favourite beaded bracelet. This beautiful anklet is new to our collection this summer and is sure to be your new favourite anklet. Personalize this piece with your initial or stack it with other anklets to create your own combination. Available in 925 Sterling Silver. 
Shop the Sterling Silver Beaded Anklet here
Another anklet to match one of our best-selling pieces. Add the finishing touch to your outfit and match your necklace, with this elegant Cross Charm Anklet on a Satellite chain. Available in 14K Gold Filled or 925 Sterling Silver. 
Shop the Cross Satellite Anklet here
Add that extra pop of personality to our accessories this summer with a new anklet. Check out our anklet collection to find the perfect piece for you!